1875
Our journey began with our great great grandfather Carl Samuelsson, born in 1854. Carl started to forge in 1875 at a cottage in Gisslamåla in Småland, and he became renowned for his work. In the little smithy, everything from drills to sleighs were crafted. His speciality became forging scythes using a special hardening process that he had learnt as an apprentice. Through his unique stamp, CP Samuelsson, it is yet to this day possible to recognise his work.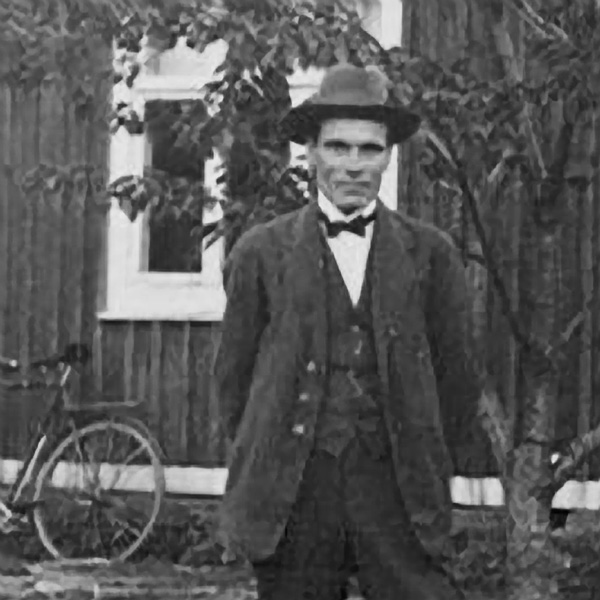 1890
Carl Samuelsson's son, Gustav Carlsson, was born in 1890 and he also became a very skilled blacksmith. He settled down at Kulla farm in Småland, where we still today can see many examples of his delicate and detailed work, for example the padlocks on the sheds. He was a recognised smith who got a lot of commissioned work. It was important to keep up with the industrialisation, so electricity was installed in the beginning of the 20th century and Gustav himself constructed simple belt driven machines for use in the smithy.
1960
Gustav's oldest son, John Gustavsson, our grandfather, followed in his father's footsteps and embraced the blacksmith profession. John, who grew up on Kulla farm in a creative environment, became an ingenious man who among other things developed a farming machine that he patented in 1960. The so called "Kullavälten" (Kulla roller) became well known and was much used.
1997
Influenced by his ancestors' interest in forging, our father, Våge Gustavsson, started the company Våges Smide in 1997. He was a creative man with many ideas and a wonderful sense of form. This resulted in a modern philosophy where focus was on design, function and "Smålandian" ingenuity. Sadly Våge passed away in 2006, but he left a legacy of ideas and knowledge behind.
2006
After Våge passed away, we the children took over the company and in 2011 we hired the skilled craftsman Pär. Our goal is to pass on the thoughts and ideas of earlier generations by designing and crafting beautiful ingenious products with identity.